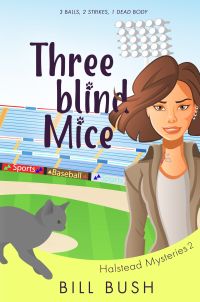 Eden's Grandma is no killer, but proving her innocence is another matter entirely.
After solving a local murder mystery, Eden Price is beleaguered by reporters, and she hates every minutes of it. Together with her grandmother Maimeo, she sneaks out of town in disguise to cheer for Halstead at the Kansas 3A State Baseball Tournament.
But what starts out as a joyful challenge turns sinister when Maimeo discovers the body of one of the umpires. With the murder weapon found by the police, Lucas and his teammates are under suspicion. Eden needs to prove the Halstead players' innocence, but everything she uncovers points toward Maimeo as the killer.
If she can't fit the pieces together in time, Lucas and the Halstead Dragons can kiss their shot at a State Championship goodbye. And her grandmother may sit in jail for a very long time.
Three Blind Mice is the second book in the Halstead Mystery Series.
Purchase Three Blind Mice:
Amazon
Barnes and Nobel
Vivlio
Thalia
Book 1: When the Time is Right
Book 3: Toxic Intentions