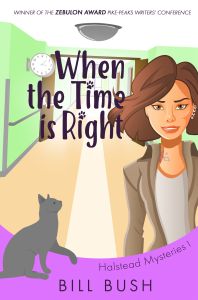 Eden didn't peg bribery, kidnapping, and murder for summer activities
For eighteen-year-old Eden, her court-mandated community service is set to be every bit as punishing as prison. Sent off to work at a pizza joint while living with her grandmother in a little out-of-the-way town, at least she can appreciate the peace and quiet.
But the town is hiding its own secrets, and pretty soon peace and quiet will be very hard to come by. She might not realize it, but between the spiteful neighbor, the enigmatic mayor, and the calculating owner of the abandoned hospital, Eden's 90 days in Halstead are set to be the most exciting of her life.
Follow Eden's unexpected adventure in this strange and entertaining tale of mystery.
Purchase When the Time is Right:
Amazon
Barnes and Noblel
Vivlio
Apple
Kobo
Thalia
Watch the Book Trailer
Book 2: Three Blind Mice
Book 3: Toxic Intentions